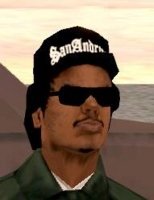 (Lance "Ryder" Wilson): Born in San Andreas. Death 1992 San Andreas. Main Character/Antagonist, (Later part of the game).
Ryder was a protagonist in the later part of the game it was obvious CJ was going to hunt him down and take his revenge for his mother's death and he did by chasing him in a boat then allegedly killing him. Ryder was CJ's friend for a long period of time, without Cesar, CJ would of been completely oblivious to the fact that Ryder and Big Smoke were related to CJ's mother's death.
Events After GTA San Andreas ?Edit
(Possible Death): Rockstar created that illusion, it could be true.
(Possible Survival): As I mentioned in Sweet's profile, due to the fact CJ didn't check or hide the body it is possible Ryder survived with only an injury.
(Revenge): If he did survive it is likely he would want to take revenge on CJ for almost killing and probably Sweet while he was at it but if he did kill any of them he would probably only be able to get away with just killing one of them.
(Migration): Ryder is all talk and no action, if he did survive he probably fled the country.