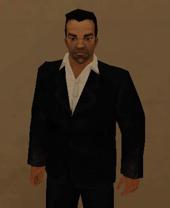 (Toni Cipriani): Born 1970, Liberty City. Main protagonist in GTA Liberty City Stories, Minor character in GTA 3.
Toni Cipriani was the main protagonist of GTA Liberty City Stories and his main objective was to kill Massimo Torini which he did with Salvatore Leone, he then appeared again in 2001. (GTA 3). To give requests to Claude.
After the Events of GTA 3Edit
(Death Via):
(Common Enemies): Unlike the other protagonists Toni killed spontaneous people that have links to people he knows although that happened some of the time so quite possibly if the relatives knew about Toni killing there relative they would probably try and get revenge.
(Colombian Cartel): Due to the fact Toni worked with the Leone family the Colombian Cartel was the Leone's worst enemy maybe in a battle between the remaining members of each group Toni got caught in the crossfire and died.
(Migration): Possibly after GTA 3 Toni decided he needed a fresh start so pursued to migrate to a different country to either commit mass murders somewhere else or to retire, although this is unlikely as his ma lives in Liberty City.
(Murder of Claude): Claude murdered the don of the Leones, Salvatore Leone leaving the Leones distraught and in need of a new boss although the new boss is unknown, Toni likely took his revenge despite his slight friendship with Claude.
(Trivia):
Neither Toni's mother or father have ever appeared in the GTA series.